Calligraphy of Clouds
We returned to Behta Pani in May with the toxic coal tar/asphalt plant across our Hirub stream and home still in operation. Fortunately, our dear Khimsar friends, Gaju and Priti, again offered us their Guest House on the Gushaini side of the valley. We spent two months there and then returned to Behta Pani in mid-July when the coal tar operation stopped (as the road to Jalori Pass was now paved). I continued to work/develop the Calligraphy Series, focusing now on clouds as the main subject. Though my original "Zen" moment approach/goal still informed the work, other forces pulled me into a mix of spontaneous laydown of the primary composition combined with very "un-zen" cloud details using small sable brushes. In looking at these paintings, I realized that the last three years of the Calligraphy Series (2016-18) was my deeper connection to a Mystical Water Cycle. My earth science appreciation/study of how clouds, mountains, and streams all eternally recycle the life-giving water of our planet had found a larger thematic expression.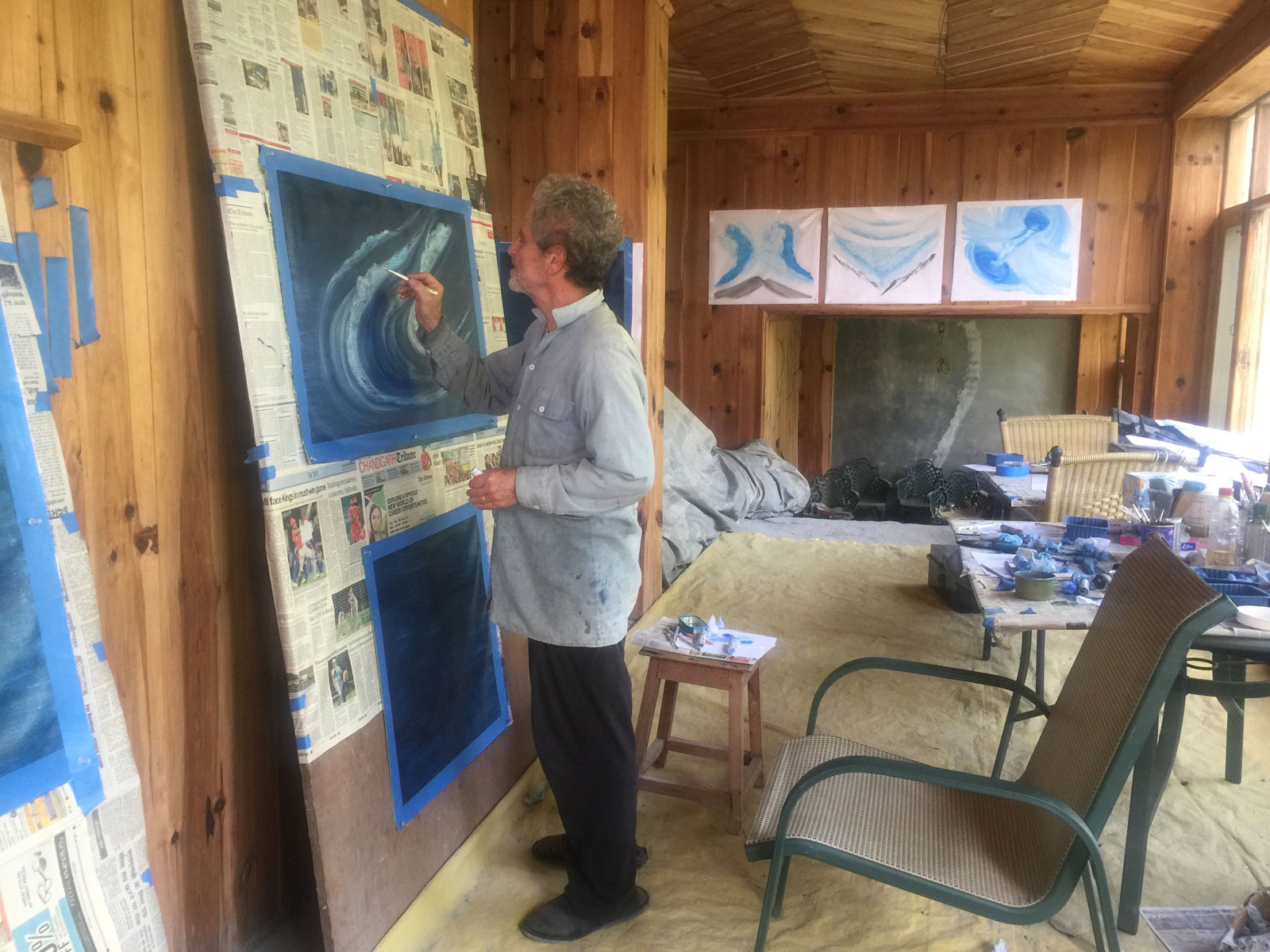 Calligraphy of Clouds evolved into two oil painting suites: Calligraphy of Clouds|Day and Calligraphy of Clouds|Night. The Night paintings, with their black or dark, phthalo blue grounds have been an on-going theme (Hirub Dream/2016; The Memory of Waters-Night/2015; Dark Flow and Dark Falls/2014; Mystic Hirub Suite/2013, etc.). They are symbolist interpretations reflecting, our deeper, unconscious collective memories when the night was a phenomena of fear, awe, and unending mystery.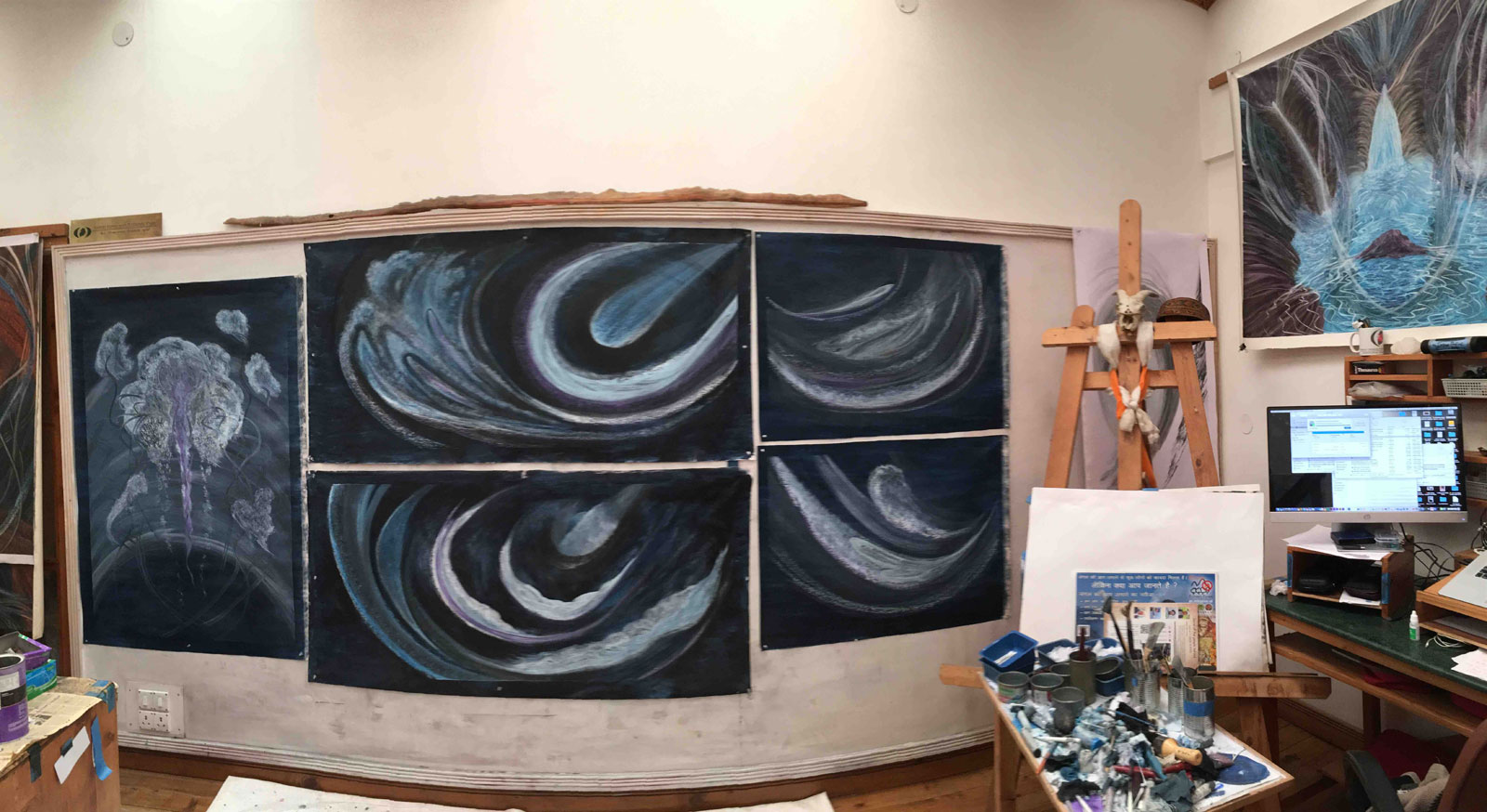 My art output this year was less then I had originally planned (19 canvases, 30 oil on clay paper) as the disruption of moving combined with almost two months hiking preparation for a major September trek in the Great Himalayan National Park/GHNP limited my studio time.
Works on Paper continue my delight in working with oils on the clay coated paper (a gift from Monarch Litho/Los Angles many years ago). My trek in the Great Himalayan National Park/GHNP (September 20-28) stimulated the Works on Paper Suite: GHNP Storm. The trek was one of the most challenging Nature experiences of my life, especially at 73. As I emailed my friends:
Just returned from intense GHNP nine day trek to 14,000 feet with incredible major storms blasting and sublime beauty in between. It was the Tirthan to Sanij trek I did in 2000 with Sanjeeva Pandey (and Arny Lippin). Sanjeeva and I took a new, undeveloped and as it turns out, dangerous trail from the Tirthan River side to Dhel thatch/meadow, returning via the Sanij River Valley.
It was the most challenging trek of my life…the second day a huge storm hit (that was expected from satellite weather maps but came a day early) and we had to mountain climb one day for eight hours up a 75 degree rock escarpment with some ledges 3 inches wide. Scary stuff, but my training/hiking for two months along with 35 years of trekking/mountain experience, along with steadfast, strong Himat (our main BP man) made it all possible…especially not slipping off into my end 1000+ feet below.
Much gratitude to my aging body for coming through and the joy of moving through constantly changing Himalayan lansdscapes and vistas. Sanjeeva and I had a ball and deepened our bond. Great retirement celebration for him and for me, perhaps my farewell trek in GHNP…but who knows? I felt incredibly strong, even agile at times, though my balance and knees are limiting forces. What an experience to have at 73+!
I'd do it again just to see rainbow bridges offering magical passage…
GHNP – Dhel Rainbow Bridge:
Sanjeeva and me at Dhel (3737m):
Me with red day pack, ever upward. 500 foot drop, no option!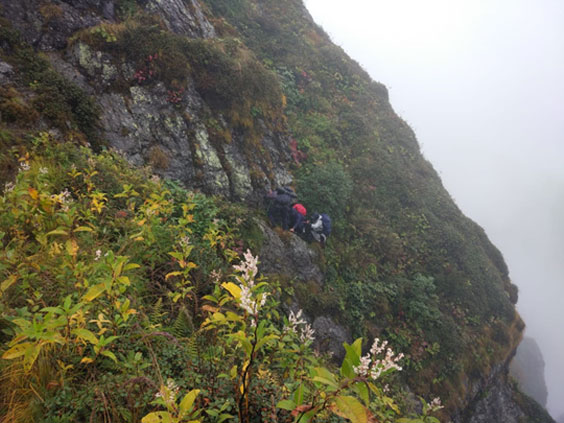 At the high ridges…sublime beauty:

All GHNP trek photos courtesy of Sanjeeva Pandey © 2018
Other 2018 projects included: (1) the development of a meta-website of 50 years of diverse art and science projects : www.paysonrstevens.com, and (2) editing years of my experimental fine art photography into three series for limited edition albums: Yakshi, Bent Space, and Monsoon Himalaya. Publication/printing is planned late 2018/early 2019.
– Calligraphy of Clouds | Night